Hello!
My name is Gabrielle Vézina.
I'm a knitting pattern designer.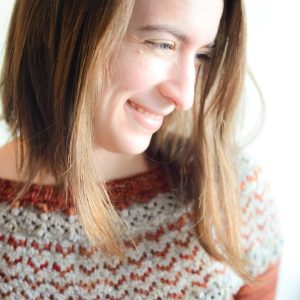 I am a mom of two little humans and three pets.
I'm from Montreal and I'm francophone.
I love languages. My English isn't perfect but it's fully functional, and I keep learning!
I'm passionate about knitting, creation and colors.
I try to live slowly and mindfully, with gentleness.
Most of my knitting pattern ideas come to me when I put my kids to bed and when I'm half asleep. I promise that I'm fully awake when I write them down, though!
About my knitting patterns
I create stress-free knitting patterns that every knitter can enjoy, from the beginner who wants to learn new techniques, to the advanced knitter who doesn't want to be bored. My designs are everyday wearable and have an actual or timeless style, providing instant satisfaction and proudness to the knitter.
My knitting patterns are published in magazines, books and websites, in collaboration with yarn businesses of all kind, or are self-published on Ravelry. You can see my complete catalogue on my designer page on Ravelry.
My priority is to provide error-free, concise and well explained patterns. To do so, all my patterns are test-knitted and tech-edited by a wonderful team of knitters of all levels. Everyone is welcome to join, so feel free to apply in my Ravelry Group.
If you ever find a mistake in a pattern (because, nevertheless, it happens!), or if you need help with a pattern, make sure to let me know by writing to me by email (see the bottom of my patterns), by sending me a message on Ravelry, or by posting in my Ravelry Group (look for the thread called Pattern Support). I am always happy to help – really, I am, so don't be shy.
Press
If you wish to know more about me or my patterns, here are a few interviews that I gave and some articles including comments about my patterns. A huge thanks to everyone who helps me promoting my work!
Interviews
An Interview with… Gabrielle Vézina, by Robin Hunter
Designer Spotlight: Grain of Sand Sweater by Gabrielle Vézina, by Berroco
Maker Monday v. IV – Gabrielle Knits, by Emily Boyd, Goldberry Artisan
Indie Designer of the week: Gabrielle Vézina, by Ela Torrente, Modish Knits
Interview: Gabrielle Vézina by Janelle Martin, Eclectic Closet
Patterns
Charmant chaos !, by Mémé Christiane
Indie Design GAL: Hats (To the Top Hat), by Kelly G. Knits
Four Fab Fall Patterns (Lineage Sweater), by Allison Barnes Yarn
"Winter storm hat" pour Mademoiselle T, by Aline et ses aiguilles
It's Summer Knitting Season! Our Favorite Knit Tanks (Tuscan Tank Top), by Craftsy
Knit for less with yarns from the Outlet (Sylvania Shawl), by LoveKnitting
10 Indie Patterns Using Cascade Yarn (Inglenook Shawl), by LoveKnitting
Trend Alert! 6 Fun Fringed Scarf and Shawl Knitting Patterns (Plumage Scarf), by Craftsy
6 Weeks Till The Holidays! A Guide To Knitted Presents! (Rustic Infinity Scarf), by In The Round
GAL 2015 Top Ten Neck-a-Things Patterns (Wavy Infinity Scarf), by Katya Frankel
Indie Design Spotlight – Colorful Geometry (Wavy Infinity Scarf), by Kimberly Golynskiy, 80 skeins
Les plus jolis patrons de tricot d'avril (Olympia Headband), by Maude L. Baril , Maude Design
Indie Design Spotlight – Fairy Tales! (Red Riding Cowl), by Kimberly Golynskiy, 80 skeins
Enchant Your Knitting! (Sylvania Cardigan), par Kathleen Cubley, Interweave's Knitting Daily
EnregistrerEnregistrer