Today, I'm reviewing a very fun yarn I've been trying lately. I must say I went out of my comfort zone with this one. It's nice sometimes to be pushed to explore new things, isn't it? I probably would never have tried it if I hadn't been kindly asked by
yarncanada.ca
to review it with honesty... and I'm so happy I got to discover it! So here are my thoughts about
Red Heart's Scrubby
.
First thoughts
So, this is a yarn meant to knit dishies? I was really curious about it. But it's not love at first sight for me, it's such a different yarn from what I'm used to knit with! It's not really cute and it's not really soft. If I ever saw it in a store, it's so far from my taste that I probably passed my way without even noticing it. It's 100% polyester and there are little twists of fibers coming out of the main strand. It's not itchy at all and even if I wouldn't say it's soft, it's quite pleasant to touch. I have a very sensitive skin but I can picture myself washing one full week of dirty dishes with it without any problems (other than thinking hubby is not doing his job). And when you touch it, you can tell it's a very sturdy yarn meant to go through things no other yarns ever went through! [caption id="attachment_1943" align="aligncenter" width="350"]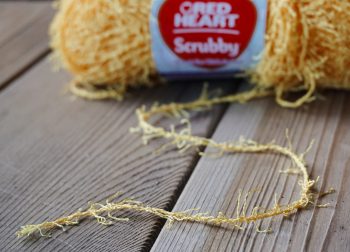 Red Heart's Scrubby in the colorway Duckie[/caption] The colors I got are gorgeous! I got Duckie, Lime and Ocean. They are joyful, oversaturated colors and I really like how bold they are. I want to find a way to knit them together, they are pretty separately but I like them even more all together.
Knitting with Scrubby
It's not a walk in the park to knit with this yarn. I wouldn't recommend it to a beginner. It's hard to recognize the stitches on the needle and they don't slide easily, even on metal needles smaller than the recommended size (I used 4.5 mm / US 7 instead of the recommended 5 mm / US 8). On the other hand, it's meant to be knit loosely so it's knitting up quickly even if my pace with this yarn is slower than usual.
Unexpected result
While knitting my first, plain dishcloth, I was amazed to see the fabric it was creating. It was so interesting that I couldn't resist rubbing it against my skin. I rubbed a small section of my foot where there was a bit of corn and dead skins and it became perfectly soft in seconds! I'm not a fan of loofah and other rubbing gloves because they are too harsh for my skin but this 
dishie
washcloth is PERFECT! And just like that, I became addicted to this yarn. [caption id="attachment_1944" align="aligncenter" width="350"]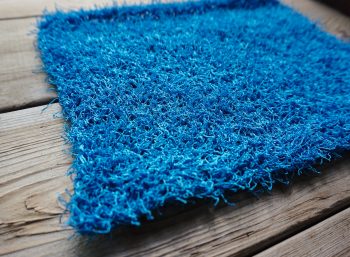 My first plain dishie, in the colorway Ocean[/caption]
Color knitting
I should have known it wouldn't be the best choice for a mosaic stitch pattern but I wanted to try it out. The result is fun but the pattern is not really showing. It's no surprise as this yarn is not meant to have a good stitch definition. However, the stripes are really showing and they create a funky result compared to a plain dishie. It could also be a good choice for bolder color techniques such as intarsia or large blocks of Fair Isle. [caption id="attachment_1941" align="aligncenter" width="350"]
My second dishie combines stripes and a mosaic pattern (colorways: Duckie and Lime).[/caption]
Comments from non-knitters
As usual, I've been knitting it at the dog park and I never had so many comments about my yarn! It's been a conversation starter that night, everyone had a comment to make about this yarn! - Wow, that's a funny yarn! - What are you knitting? Dishcloths? Now that's the perfect yarn for this! - I would wash my back with it! - It's pretty, it reminds me of fluffy yarns, I would wear it as a sweater over a small layer! I'm thinking about making a washcloth to all my closest dog-park friends, I'm sure they'd be thrilled to get one! I'm also adding these easy project to my Christmas gift ideas list.
You can buy Red Heart's Scrubby on Yarn Canada website for $5.95 CAD for a 100g ball.
abc