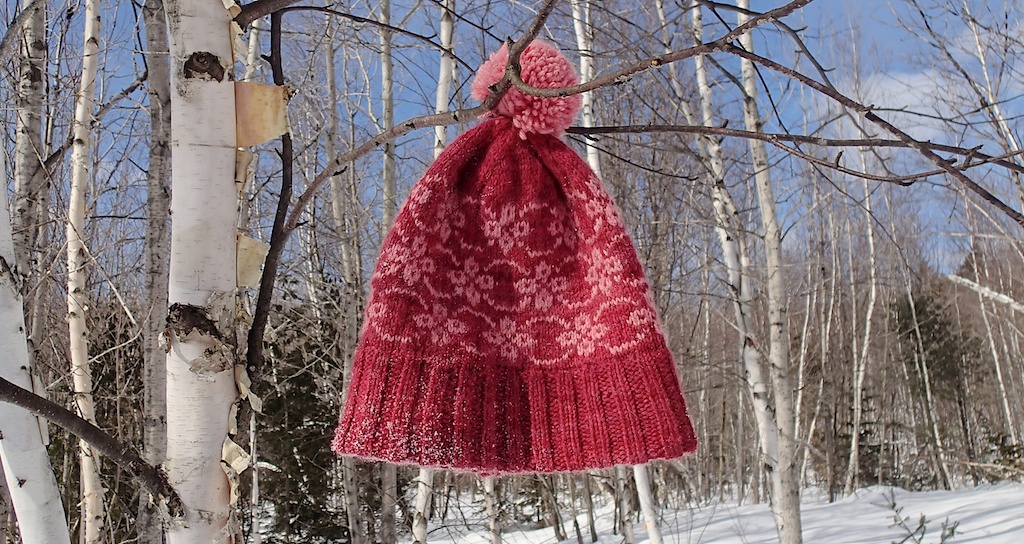 March the 30th, I wake up and see, on the other side of my window, 4 more inches of snow! This winter seems to never has an end. This year in Quebec, we beat a cold record established in 1993-1994. I love winter but now I'm dreaming of my lighter coat and walking boots. I can't wait to store my King Cowl and my yellow Red Riding Hat far far away…
Despite my desires, cold is here to stay and as you can see on this pictures, I can't keep my head warm without wearing a hat, earwarmers and a hood. I'd love to trade the three of them for a very warm hat. This is my goal. My ultimate goal. My reason to live… until springy weather!
Pursuing my goal, I created a new design called the Crocus Hat – hopefully this name will give Mother Nature the idea of growing flowers.  This hat is made in Fair Isle, resulting on a very thick fabric. Furthermore, the ribbing is lined with a second layer of ribbing. Let me show you how to do it!
This is a great method to get lined ribbing without having to fold it every time you wear the hat.  The look is neat but your ears will know the ribbing is here for them!
You can get the whole pattern on Ravelry!
EnregistrerEnregistrerEnregistrerEnregistrer