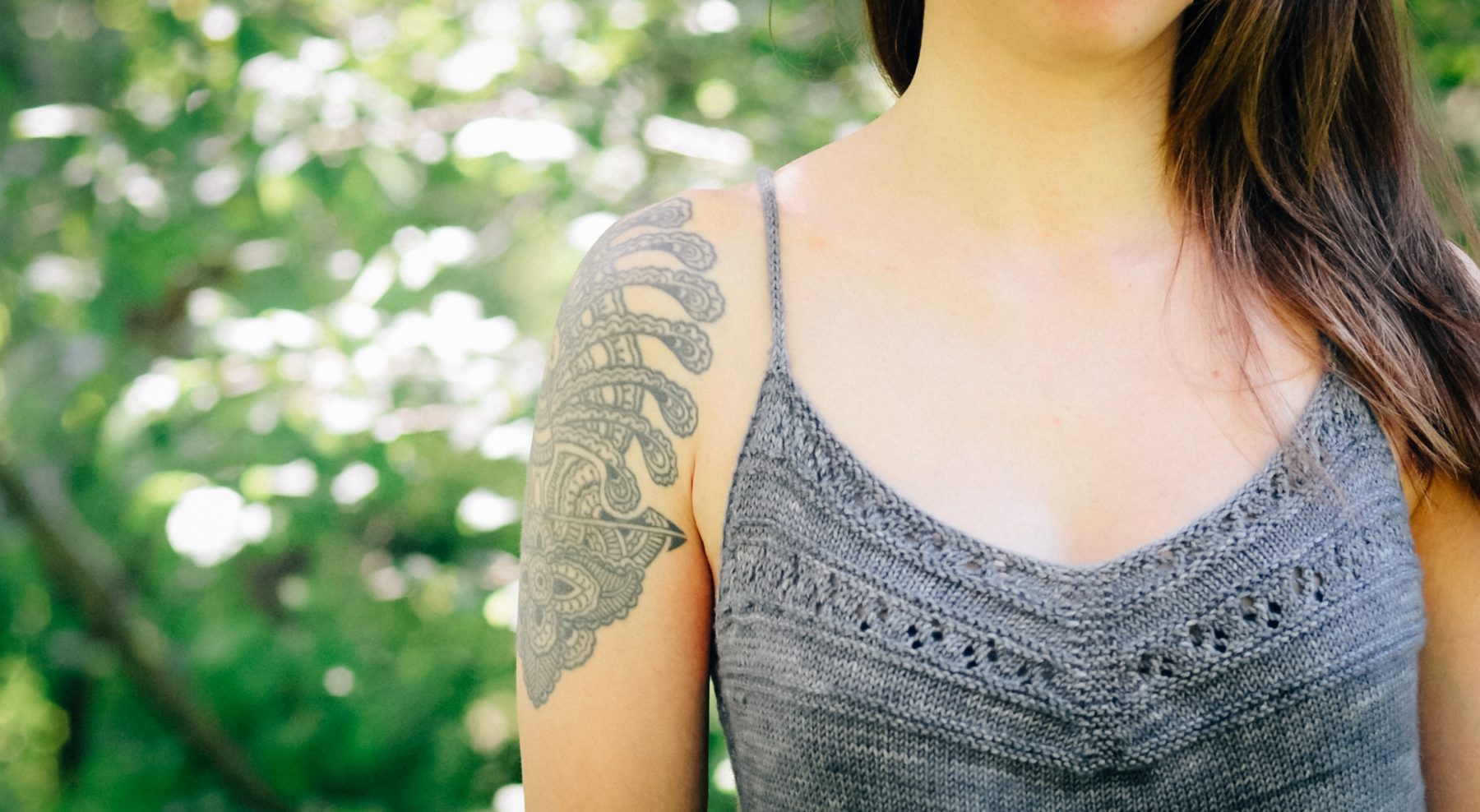 Aya Tank Top Knitting Pattern
Summer is here! Weirdly, I think it's the best time for knitting. I don't need to wear gloves anymore so my hands are free to knit while I drink lemonade under the sun. Are you wondering what to knit for this season? My new release is a tank top knitting pattern and it's perfect to knit and to wear during the warmest months of the year. With a light blend of cotton, linen or even merino, a knitted tank top is such a nice thing to have in your wardrobe, tried-and-true!
Aya Tank Top
Aya is a feminine tank top, fun, easy and quick to knit. Worked from the top down, the front starts with a lace section that pairs as an easy way to create a flattering sweetheart neckline, while the slight race back is comfortable to wear. From the underarm to the bottom, the top is worked in the round in simple, almost plain stockinette rounds, then the straps are knit as icords, joining the front and back at the shoulders.
Get it on Ravelry at http://bit.ly/ayatanktop
The pattern is meant for advanced beginners. There's nothing complicated, you just need to be able to knit basic stitches, read a pattern and knit in the round (which I often find easier than knitting straight rows). There's an easy lace pattern for the top part (charts and written instructions are provided), 3 waistline options (straight, fitted, a-line), and a little more lace at the bottom. Straps are knit as icords and the instructions are provided as well.
To knit this tank top, you will need:
684 (770, 857, 978, 1075, 1212, 1318) yds of sport weight yarn
US 3 (3.25 mm) long circular needles
US 3 (3.25 mm) DPNs (2)
4 stitch markers
1 long stitch holder (or scrap yarn)
1 tapestry needle
About my prototype
I really love my tank top. Sometimes I knit just for the sake of writing patterns and for the fun of knitting, and I don't care too much about the final result. I thought it would be the case here and I admit I've been knitting without giving it so much love. First, I bought online 8 skeins of this amazing yarn (Miss Babs Yummy 3-ply) in 3 colorways, thinking I'd be doing some colorwork. Turned out this gray wasn't working well with the other colors, so I wondered what I could do with two skeins. I absolutely didn't want them to be stashed forever because they are really amazing, so I decided to find their destiny right away. I wanted to create a knitting pattern for summer and I had just the right yardage to knit a tank top. I wanted a neckline that wouldn't be straight but that would still easy to knit, so I created this sweetheart neckline that turned out unexpectedly well. To keep it really simple, I decided against more lace but took it back for the bottom part, to help avoid curling at the bottom in a pretty way. I took pleasure in knitting the pretty lace, the fun construction and did quite a lot of knitflixing for the bottom part (I love TV knitting projects!) and it was off the needles very quickly. A little bath and a light blocking later, my top turned out to be fitting me perfectly, with just enough positive ease to be comfortable and pretty. I plan on wearing it a lot this summer!
EnregistrerEnregistrer
EnregistrerEnregistrer
EnregistrerEnregistrer
EnregistrerEnregistrer
EnregistrerEnregistrer
EnregistrerEnregistrer
EnregistrerEnregistrer