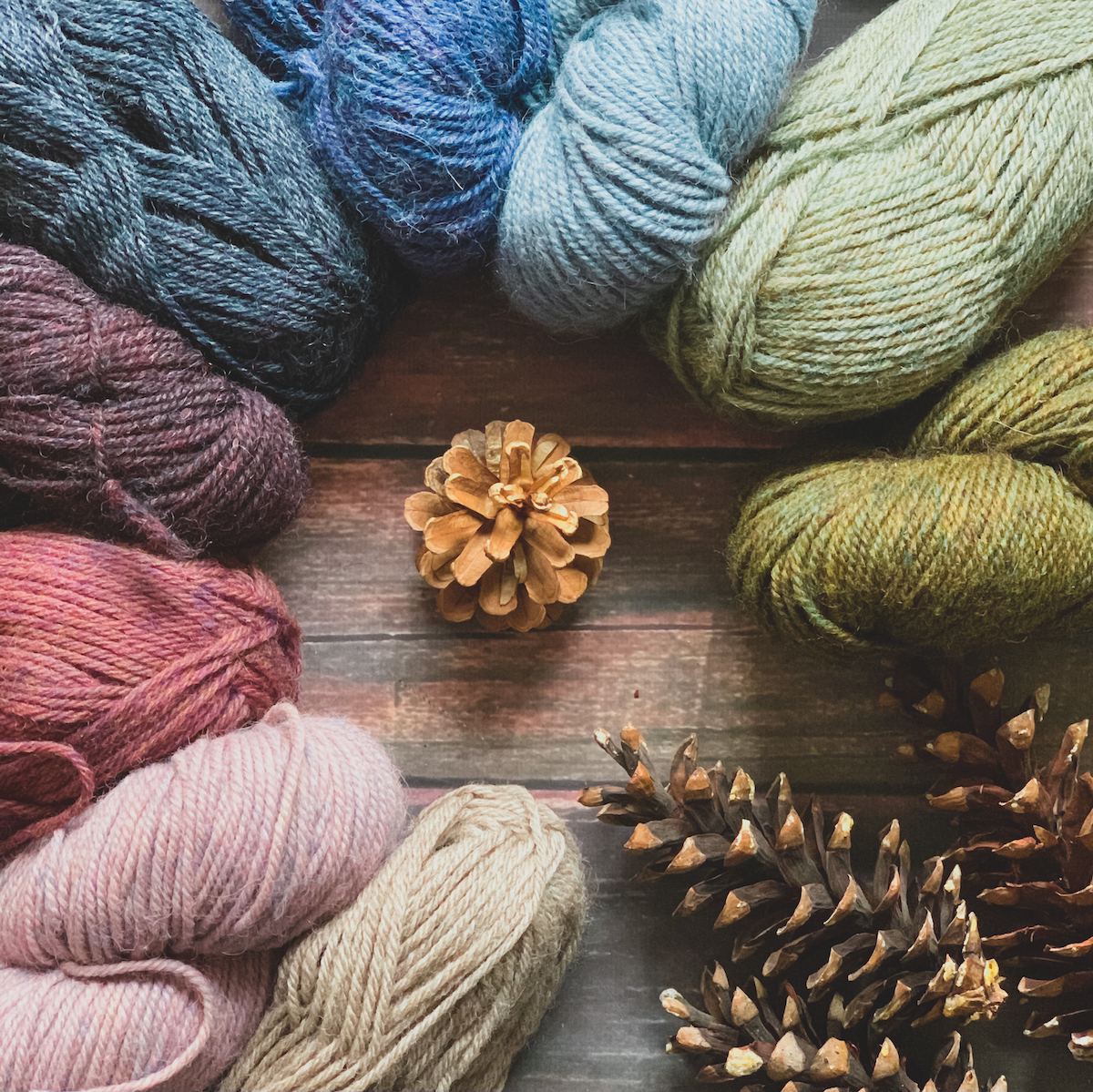 How to knit a temperature blanket or scarf? Tutorial and free knitting pattern!
Temperature blankets and temperature scarves are always a popular project amongst knitters. The concept is to knit one row for each day of the year, in a color corresponding to the temperature of that day. They are great projects, because:
They are easy to knit.
They are the pinnacle of the loyal WIP that will always be there for your Knitflix nights.
They have this little spark of magic that comes with multicolor projects; you can't really imagine what they'll look like until they are done.
They are a long term commitment like most knitters love.
AND they are amazing stash busters!
For all these reasons, I decided to knit one in 2021. I'm hopeful that 2021 will be a great year to remember.
First step: finding temperature data for your city.
There are several websites that can help you with that. You can search for "2020 temperatures your city" and you'll find plenty. I used the website The Weather Network, entered my city in the search box, clicked "Monthly" in the menu and I browsed through the 2020 months. You can switch to °F in the top menu (desktop) or hamburger menu (phone).
On the calendar, you will see two numbers – they are the maximum (black) and the minimum (blue) of that day. I will use the maximum to knit my blanket, as this is what we usually refers to when we talk about the weather. Using the maximum temperature and a weather website will be very precise, but you can use the method that you prefer to track the daily temperature, as long as it is consistent all year long. You could use your own thermometer and always check it at the same time of the day, or use the average for a day, or the minimum, or the "feels like" temperature at 3pm. It's up to you!
In Montreal in 2020, the coldest maximum temperature was -16°C (3°F) and the warmest was 36°C (97°F… I hate those days! It's impossible to wear any kind of knitted piece!) This range gives me a thermal amplitude of 52°C (94°F).
Take note of the thermal range for your city, of the lowest low and of the highest high. You'll need them later.
Second step: finding your yarn.
In my opinion, this step is the greatest!
A temperature blanket calls for a rainbow of colors. It also calls for a gradient, to reflect that the temperatures raise and decrease gradually. Most people will choose cold colors (blues, greens…) for the cold temperatures and warm colors (reds, oranges, pinks…) for the warm temperatures. Those colors are great if you want your blanket to go all around the color wheel, but you can decide to tone down your rainbow by using only two or three families of colors (blues and purples; yellows, oranges and reds; etc.), to use only dark or light colors, to use only colors with a brownish tint, or to downright make a black and white blanket with different shades of grey in between (I don't recommend using 50 shades though, that's too many!)
I decided to plan for a dark and muted rainbow, made entierly of heathered yarns. I want my blanket to be more on the cold side and to avoid bright colors, so I won't use reds or yellows, but pink and beige instead. I'll use my warmer colors for the warmer days, but I'll use the beige for the days that are ridiculously too hot… It will represent drought!
Now, number of colors.
You can use either a small number of colors with more yardage for each color, or a larger number of colors with less yardage for each color.
For example, with the thermal amplitude of 52°C (94°F) in my city, if I use 6 colors, I'd have a range of about 9°C (16°F) for each color. If I use 20 colors, I'd have a range of about 3°C (5°F) for each color.
The first thing to do, if you want to work from your stash, is to find all the possible yarns that you can use.
You'll want all your yarns to be similar in gauge and in content. I recommend using a yarn weight from DK to Aran (or even bulky if you want to knit a huge blanket!) For the content, I recommend using either only animal fibers, or only synthetic yarns. I would not mix very different fibers because they won't react the same way to washing.
If you want to buy new yarn to knit your temperature blanket, I'd suggest finding a yarn that is available in enough colors to create a nice gradient. I'd also look for the perfect fiber, which for me would be either a soft wool blend or acrylic. Those are relatively cheap options and they are usually available in plenty of colors. I'm mostly using Berroco Ultra Alpaca which isn't exactly cheap but I have a lot of skeins that have been lying in my stash forever, and KnitPicks Wool of the Andes which are leftovers of an old project. If I were to buy new yarns for this project, I'd probably get Paintbox Yarns Simply Aran which is some good old durable acrylic, Cascade 220 for a 100% wool option (or the superwash version), or an in-between option for both price and content (50/50 acrylic and wool, more expensive than acrylic but cheaper than wool): Sirdar Country Classic Worsted.
Third step: figuring out which yarn will knit which degrees.
Now that you have picked your yarn for your temperature blanket, and that you know the thermal amplitude of your part of the world, it's time to make a little chart that you'll keep on hand while knitting your blanket. This chart can be written anywhere, from a computer file to a napkin. It's really just a note to remember which color will knit which degree.
Starting with the color assigned to the coldest temperature, write down each of your colors in the order that you want to knit them, on separate lines.
First, divide your amplitude by your number of colors. You'll get the amount of degrees that will be assigned to each color. I'll call this amount the magic number.
Here are my maths, for example:
Amplitude: 52°C (94°F)
Number of colors: 9
52 / 9 = 5.78°C
94 / 9 = 10.44°F
I don't get whole numbers so my colors won't have the exact same number of degrees. I'll be using each color to knit a range of either 5 or 6°C (10 or 11°F). I'll use the biggest number (6°C / 11°F) for the first and last few colors, and the smallest number (5°C / 10°F) for the middle colors. There will probably be more days made with the middle colors as they are not as extreme, so they are more common. By giving the extreme temperatures an extra degree, I'll make a better use of my yarn.
On your little chart, you'll write the lowest degree of the range of each color.
You can start by writing down your lowest low next to your first color.
Next to your last color, write down your highest high minus your magic number to get the lowest temperature of this color.
And then, you'll get the starting degree of the second color by adding your magic number to the lowest degree.
So far, I have:
1 Dark green: -16°C / 3°F
2 Light green: -10°C / 14°F
3 Light blue
4 Medium blue
5 Dark blue
6 Burgundy
7 Dark pink
8 Light pink
9 Beige: 29°C / 84°F
Keep filling the chart by adding and substracting your magic number to the numbers that you already have. Make the maths work by evening your magic number either to the lower or upper integer. One degree won't make a big difference, but make sure to keep your ranges almost even and, more importantly, to stay within your amplitude.
Once I found the lowest number of each range, I also wrote down the highest number, just so I can be totally brainless while knitting. I also made my lowest low much lower, just in case we have an awfully cold winter, and I haven't wrote down a max number to my last color, because we never know how high it will get…
My chart is all done, here's what I get:
1 Dark green: -40 to -11°C (-40 to 13°F)
2 Light green: -10 to -5°C (14 to 23°F)
3 Light blue: -4 to 0°C (24 to 32°F)
4 Medium blue: 1 to 5°C (34 to 43°F)
5 Dark blue: 6 to 10°C (44 to 53°F)
6 Burgundy: 11 to 15°C (54 to 63°F)
7 Dark pink: 16 to 21°C (64 to 73°F)
8 Light pink: 22 to 28°C (74 to 83°F)
9 Beige: 29°C and beyond (84 and beyond)
Everyday of the year, find the maximum for the day (or for the previous day), pick the corresponding color and knit your row! If you can't knit for a few days, make sure to take note of the last date that you've been knitting… the later we'll be in the year, the less you'll want to have to count back all the rows to find where you're at!
And we're ready to start knitting!!!
Pattern
You really can make your temperature blanket or temperature scarf the way that you want, I saw all kind of blankets (garter stitch, granny squares, wave pattern, etc.) and they all give great results. I'm including the instructions that I'll be following if you want to do the exact same thing.
I want this blanket to be extremely simple. I like ribbing so I'll be doing an easy 2×2 ribbing blanket, with 1×1 ribbing edgings. I want all rows to be made exactly the same way so there won't be any right-side-wrong-side questions while knitting. The blanket won't be perfectly symmetrical, but it will be perfectly reversible.
There will be exactly 390 rows in this blanket, including the borders. The lower and upper borders are made with your first color (coldest), the side borders are made while knitting regular rows, with your current color.
If you want it to be square, you'll need to cast on about 340 stitches.
If you want it slightly longer than square, cast on 280 stitches. If you don't have a lot of yarn in some colors, that will help reducing the yardage.
For a good size scarf, with worsted weight yarn, I recommend casting on about 80 stitches.
If you have a specific size in mind, make sure to make a swatch and to cast on the correct number of stitch to get the correct size.
You can also CO twice the number of stitches and knit 2 rows everyday. You'll them make a giant temperature blanket that will easily cover a king size bed.
You'll need a total of approximately 1300 yards of worsted weight yarn to knit the blanket as written.
It's impossible to determine in advance how much yardage you'll need for each color, so make sure that you have enough or that they are not discontinued.
Ribbed temperature blanket (or scarf)
Knitting pattern
Dimensions: 60″ x 51″ (152 cm x 130 cm) for a blanket; 60″ x 14.5″ (152 cm x 37 cm) for a scarf.
Yarn: approximately 1300 yds (1189 m) of worsted weight yarn for a blanket; 372 yds (340 m) for a scarf.
Gauge: 22 sts x 26 rows = 4″ (10 cm).
Needles: US 8 (5 mm) long circular needles to accommodate large number of sts.
Abbreviations:
sts: stitches
CO: cast on
BO: bind off
K: knit
P: purl
Instructions:
With your first color (coldest), CO 280 sts for a blanket, 80 sts for a scarf, or any multiple of 4 sts.
Setup row: (K1, p1) along.
With your first color (coldest), work Setup row 12 times total.
Next row: (K1, p1) 6 times, (k2, p2) to last 12 sts, (k1, p1) 6 times.
Blanket row: (K1, p1) 6 times, (k2, p2) to last 12 sts, (k1, p1) 6 times.
Work one blanket row every day for a year, using the color corresponding to this day's temperature.
Ending row: (K1, p1) along.
With your first color (coldest), work Setup row 12 times total.
BO all sts in pattern.
Wash your temperature blanket by following care instructions for your yarn, and enjoy the coziness!
Fourth step: knitting!
Happy knitting everyone! I'll be back with the fifth step in 2022: enjoying a knit night under the blanket!
Meanwhile, make sure to check in my Ravelry group where I'm hosting a temperature blanket knit-along!
January 4th, 2022 – Afterthoughts
One year later, I'm coming back with afterthoughts.
First, I haven't finished my blanket (boo). I haven't let it down, I just had thousands of reasons not to knit my daily row, including amazing knitting collaborations and deadlines, plus a pandemic that made me keep my kids at home most of the time. I made it up to September 15, and I'm planning on finishing it in 2022. I took note of all the colors I have to use for the remaining rows so it will be easy to follow. Which leads me to my first additional note…
Keeping track of the following rows
Soon in the process, my fellow KAL knitters and I found that we needed a system to keep track of the next rows to knit. Some of us would knit their row daily, which is perfect, but most of us would take note of a few days and knit a bunch of rows all at once. We all ended up finding our own technique for keeping a record of the colors to knit next. Basically, it consisted in writing down the date and the color. Some of us used:
Pen and notebook: write down the day and color, strike it when done.
Excel or other stylesheet software: write down the day and color, fill the cells in gray when done.
Some "todo" software: set up a project, add a task for each day with the date and color in the title, check it when done.
I used the latter option, using Todoist. The free version of this app works perfectly for this task. You can access it from your phone, computer, tablet… which is very convenient, and it's easy to use.
Planning for yarn
We were about 30 knitters to actively take part of the KAL, and more than half of us ended up being short of at least one color. It's almost impossible to plan properly, as the weather varies quite a lot from one year to another, and you can end up having a big disparency in the number of rows made with each colors. My first advice is to use yarns that are not discontinued or impossible to find, so you can get more if you need to. If you want to work from stash and from discontinued yarns, make sure that you have plenty of each color. I would say that for the pattern written as is, with about 8-10 different colors, 200g of worsted weight in each color should be enough, 300g would be safer.
Also, it's okay to cheat a little bit, especially by the end. If you're short of a color just for a few rows, use the closest color that you have on hand. This project should be a stash buster, not the opposite…
Note about ranges
This is not a big deal and really, it's just a thought. If I were to redo a temperature blanket (and I probably will), I would use round numbers for my ranges, probably ranges of 5 or 10 degrees. This time, I made my ranges work for the colors I had. Next time, I'll make my colors work for the ranges I want. Why? Because it's so much easier to remember, both while knitting and afterwhile. "Look at all the beige! We had so many days over 30°C in 2021!" sounds better than "we had so many days over… um… what was that range again? I think it started at 32°C." I'm OCD and sleep deprived (fingers crossed that I'll get my memory back again when my kids start sleeping), so it's been a little bit frustrating.
More ideas
My co-KAL participants had several great ideas of fun additions to the blankets. One of them worked her row together with a white strand of yarn when it was snowing. She used a white worsted weight yarn and she reported that it was bulky when knit together with her daily color. I think that adding a lace or fingering strand would be optimal. Following the same idea, you could also add a gray strand for rainy days.
A popular idea was to knit rows in a completely different color for birthdays and important dates. A few knitters also added a separation row in a specific color after each month. A lot of them were planning to embroider the year on the border.
Beads and trinkets were also added to several blanket, close to the edge, for highlighting birthdays, important dates, new months, etc.
And that's it for now! I wanted to add those notes for 2022 knitters, but I'll come back with more when I'm done!
Happy knitting!