Lovely Lace Knits is now available!
Lovely Lace Knits is now available! You can now get it, and hold in your hands a real, physical copy of my book! I got my copy a few days ago and I must confess that I've been holding it a lot. It's very exciting! I put all my heart into my work and I did it with creativity, happiness and candor. I think that you will feel it while knitting the patterns or reading the texts. I don't have the slightest bit of hindsight, but I am very proud of this accomplishment. My favorite knitting patterns from this book instantly became some of my all time favorite pieces of my own work, and I hope that it will give you the same feeling.
And I did it, I wrote a whole 167-pages book! I'm just starting to realize. Do you want to take a glimpse at it? Here are some of my favorite patterns from the book.
Samara Cardigan
Samara is a long a cozy cardigan, with just a hint of lace at the front; a lace pattern that reminds me of samaras.
I love this kind of cardigan, they are my favorite knitwear, I wear them all the time. I wanted Samara to be cozy over all, but without scarifying elegance. The pretty pink mohair that I used really fit the bill for giving it both the coziness and elegance. I also wanted it to be simple: a subtle lace pattern on an overall simple construction. I added some waist shaping for a little extra femininity. Like every other garment patterns in the book, this one is available in several size, and is size inclusive.
Amarelle Sweater
Amarelle Sweater is a spin-off from my popular Amarelle Cardigan, this time made as a sweater with an optional turtle neck, knitted in worsted weight yarn. Knitting lace with bigger yarn is always interesting, giving a bold but always elegant result in a short knitting time. The big yarn, the turtle neck and the cozy sleeves are giving this pattern a squishy coziness that makes me want to live in it.
Harvest Moon Shawl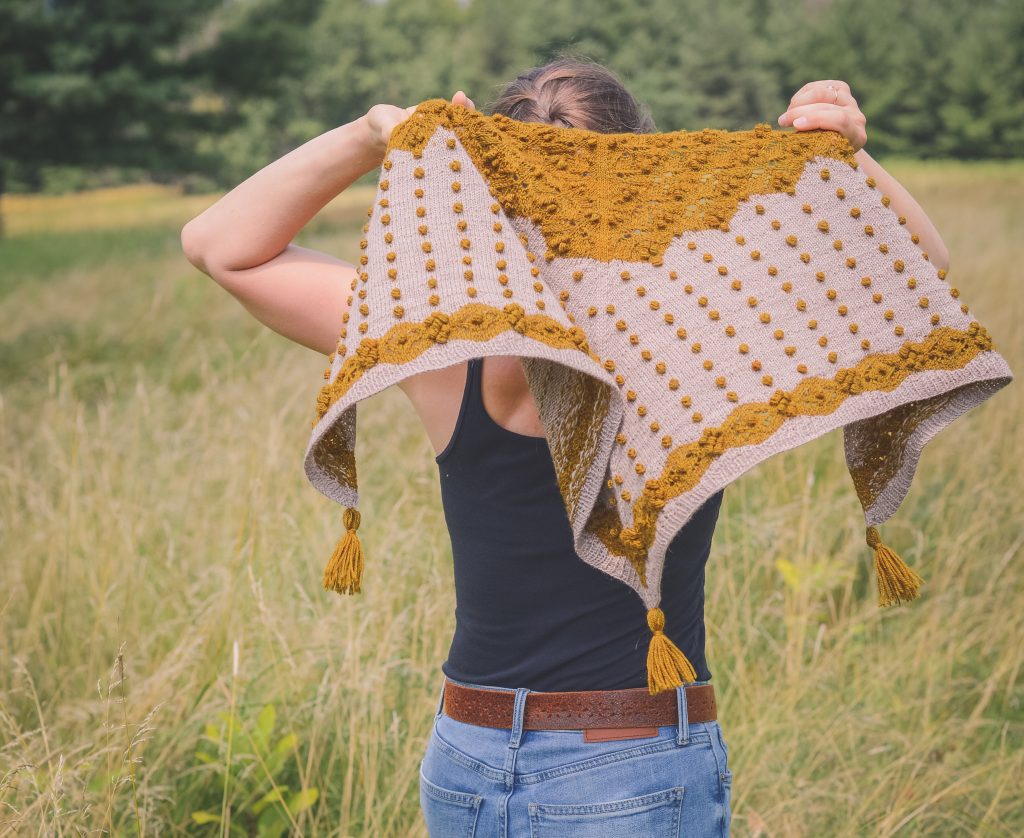 Harvest Moon is one of the first design that I made for the book. I was feeling very inspired by the two beautiful skeins of yarn that I had and I wanted to use mixed techniques to show them at their best. I combined lace knitting with stranded colorwork, colorful bobbles, ribbing and then I added tassels to add a cute, finished look.
Solstice Top
I must say that Solstice Top is probably my personal favorite pattern from the book. Warm weather knits are often my favorite projects because they are quickly made, very flowy and they can be so delicate. I loved to integrate a pretty lace panel to this drop-shoulder top, and some feminine finishing elements such as a rolling neckline and slightly puffed sleeves.
Feather Hat
Feather Hat is the very first pattern that I designed for the book. As soon as the initial video call to talk about the project was finished, I picked up a skein of yarn in my stash and started designing right away. Two weeks later, it was done. My partner and I happened to have planned a photoshoot for other patterns, so we brought this one along. I thought that I would retake the photos while shooting the Terrene Collection, but I liked them so much that they are the ones figuring in the book!
That's it for the spoilers today! The book includes 16 patterns, so you still have a lot to discover…
Thank you
I want to thank the meaningful people who also put their hearts into this project and made it possible.
Loraine, my incredibly dedicated and loving mom, who knit significant part of the samples of the book, especially the seas of stockinette and the sleeve islands (lucky for me, we have the same knitting tension and I could just pass on my WIPs to her).
Robert, my multitalented partner who did the photography of the book.
Emily Archbold, my editor at Page Street Publishing, who promised to be just an email away and who really was, good time, bad time, during the whole time.
My amazing team of dedicated test knitters who helped with so much enthusiasm for all the patterns of the book (and many more before): Mirva, Dee-Anne, Jayin, Myriam, Marianne, Paule, Nathalie, Sarah, Mireille, Kim, Caroline, Sue, Rosalyn, Robin, Su Yan, Jessica, Kimmy, Brandy and Tiffany.
Cathy Susko for her great tech editing job.

Laura Benton and Meg Baskis for the beautiful book design.

Katelynn Jasper, Jamie Wright and Charlotte Lyman for the dynamic marketing effort made around the book launch.
I also have some great friends and colleagues in the knitting industry, and these amazing people promptly and happily provided yarn in order for me to knit the samples. I am incredibly thankful for these professional of the fiber industry who trusted me and this project:
And lastly, I want to thank the beautiful knitting community who have been supporting me for years and who made my lifestyle possible. Thank you for letting me share my passion with you, and thank you for sharing yours with me.
Long life to our knitting journey, and may we keep travelling together!