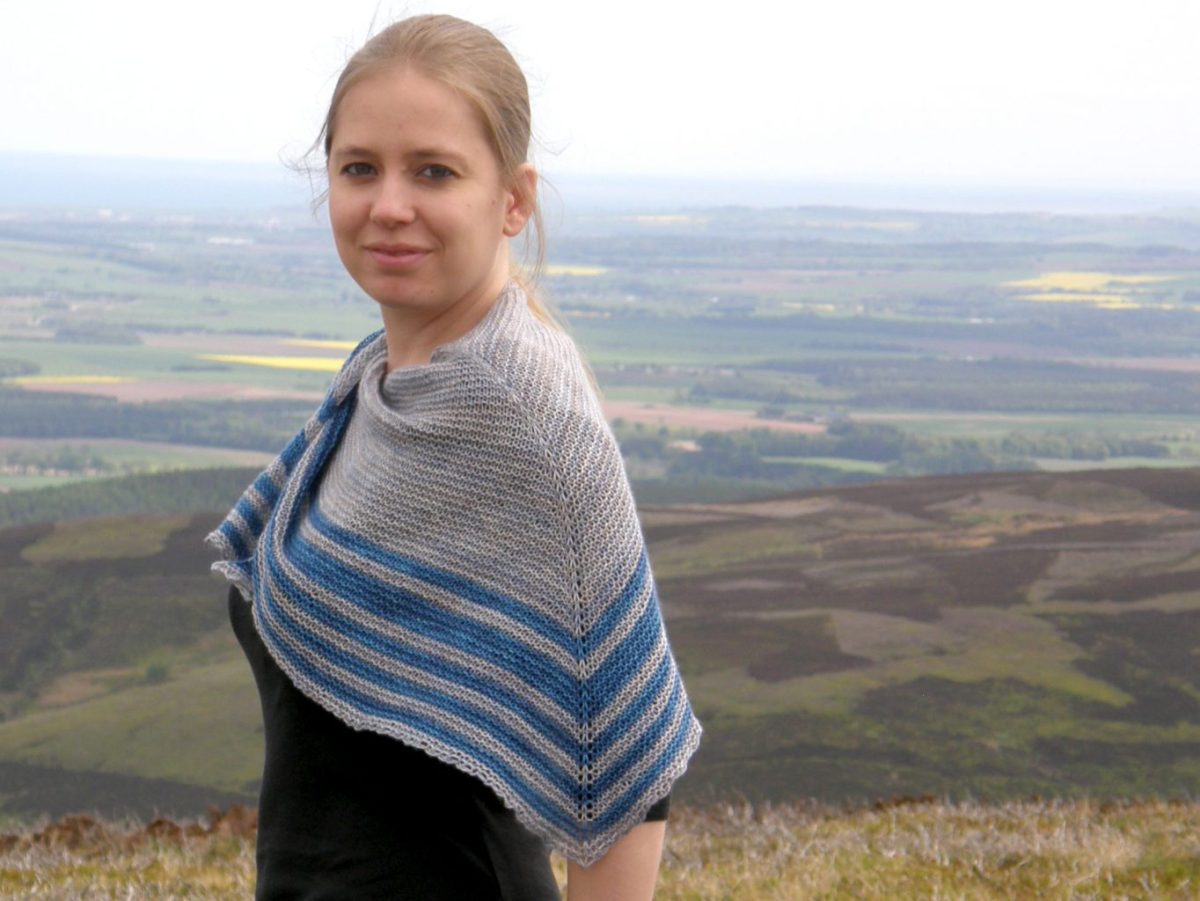 This year, I'm taking part of the Gift-A-Long, a very nice event that takes place on Ravelry for which nearly 300 designers from many different countries and about 5000 knitters and crocheters are getting together to craft their Holidays gifts all at the same time.
Each designer had to interview other designers chosen randomly.  I've been lucky enough to get to interview Liz Corke, a nice designer with gorgeous patterns.  Here's the interview.
When have you been introduced to crafting and by who?
I've crafted for as long as I can remember. I think my mum's probably responsible for that but I also remember a long period when I was given craft kits for every birthday and Christmas by my aunts and uncles.
What is your favorite yarn?
I love merino/silk blends usually in 4 ply weight. I buy most of my yarn from indie dyers in the UK. Old Maiden Aunt, Fyberspates and Eden Cottage Yarns my three favourites.
If you had to choose one word to describe your patterns, what would it be and why?
This one is really hard! I think I'll go for detailed. I try to keep everything as clear and simple as I can so that anyone can knit my patterns whether you're a veteran knitter or looking to increase your skill set. Everything is arranged so you only need to print the pages you need – written instructions and charts are kept apart.
What is the one technique you like to include in your designs?
For my top down shawls I love the garter tab cast on. It gives a lovely smooth border. For my fingerless mitt patterns there's a particular stretchy cast on called the Alternating Cast On that I absolutely love – I put a photo tutorial in my patterns and on my blog I love it so much!
What is the one technique you never tried but would love to?
This one's tricky. There's loads of techniques I haven't tried. I think the one I most one to try just now is contiguous shoulders – if I ever find the time to knit a jumper for myself!
Do you enjoy other crafts? If yes, which ones?
I love a lot of crafts! Wire jewellery making, particularly chainmaille is one of my main ones along with sewing. I've also made soap and candles, crochet (just a little) and do origami.
What is the biggest recognition you can get with your design activities?
I love seeing everyone's projects on Ravelry but I think the ultimate for me would be seeing one of my designs "in wild" when I was out shopping or something like that!
Which is your most under-appreciated design?
I think it's probably Anthousai and Aoide. I love the patterns but I think because they both need more than one skein and so they lose out.
Which is your favorite personal design?
I love Beira for gloves and Aoide for shawls, but on the whole I always love either what I'm currently working on or whatever I've just finished!
What would be your Holy Grail design?
There's a shawl design I'm working on that I haven't quite got right yet – the lace keeps playing up! On the whole I think the Holy Grail is always the next design – the one that lurks at the back of your mind until you finally get it right!
What are your 3 favorite GAL designs from other designers?
I love Young Einstein. I've made it twice now, once for my little boy, and once for a friends!
Intrepid Fox is gorgeous – I think I'm going to have to make one for Alex!
One day I will knit a jumper for myself and I think Graphite will be the one! It's gorgeous and I love the texture of the broken rib.
Narrowing it down to three patterns was very difficult – there are so many fantastic designers in the giftalong this year!
Are you crafting your Holiday gifts? If you do, do you have special plans for this year that you can share?
I always craft gifts for my sisters in law and friends, along with other little presents. This year I'm making earrings for everyone!
—–
Liz's patterns are available on Ravelry.
Thank you Liz for this great interview 🙂
EnregistrerEnregistrer