Believe Interchangeable Needles Set from Knitter's Pride Mindful Collection
Is your knitting needle collection an untamed monster that keeps chaotically growing? I'm not here to brag, but mine is not. The reason is that I've been using an interchangeable needles set almost since the day that I started knitting. I used to have that one kit, plus a big bunch of DPNs and smaller sizes fixed circular needles. When Knitter's Pride reached out to me to ask me to try one of their kits, I was happy to say yes and to try something different for a change! The kit I picked is called the
Believe Interchangeable Needles Set
, from their
Mindful Collection
.
TLDR: It's a great kit! Everything from the design to the extra accessories is great, especially the needle tips and the thoughtfully made cords.
PRO:

Sharp, long, comfortable tips

Swivelling cords included

Durable case

Lot of accessories included and high compatibility with more

CONS:

Longer cords not included

Screwing system can be a little hard to use

WHO IS IT FOR:

Lace knitters

Loose knitters

Knitters in need for a complete knitting kit including accessories

WOULD I RECOMMEND THIS KIT:

Yes, definitely!
The Believe Interchangeable Needles Set: Presentation

The whole Mindful Collection from Knitter's Pride is labelled as knitting needles specifically made for knitting lace (and everything else). They have super sharp and smooth tips that makes it easy to perform decreases, work with tiny yarns and knit stitches quickly with no hassle.
The Believe kit is a small kit including only 7 pairs of small interchangeable tips from size US 2.5 (3 mm) to US 8 (5 mm). The tips are 5″ (13 cm) long, which is a great length for the hands' comfort, especially when knitting long rows (awesome for sweaters and shawls, maybe not the best choice for socks and toys). It is a must for those knitters who usually work with tiny to medium yarns (that's me, hi!) and for loose knitters (me again!), as only the smaller tips are provided.
To go with the tips, 4 cords are included (2 swivel and 2 fixed) in lengths 24″ (60 cm) and 32″ (80 cm).
The kit also includes all of the tiny accessories that you need to securely fix your tips on the cords, as well as 4 end caps, 2 cord connectors, a needle gauge, 2 darning needles, and 50 (!) stitch markers of all sort.
All of those things fit in a small zipped case, with tiny compartments made for each pair of tips, and just enough extra room to fit a pouch that contains all the accessories.
What I Think of the Believe Interchangeable Needles Set
At the time of writing this review, I've been using this interchangeable needle kit for a few weeks. I've been loyal to my one and only WIP for about 3 weeks (!!!), and I'm knitting it with these needles. My first, global thought, is that I had exactly zero frustrations while using it – no yarn stuck in the junction, no needles falling, no discomfort in the hands. I'm using these knitting needles mostly without noticing, which is exactly what I'm expecting from good needles. They are a tool, they are supposed to serve and be useful. These ones are perfectly fulfilling their mission.
Now, here are more thoughts about each specific part of the kit.
Design

The design of this kit and of the whole Mindful collection was obviously made thoughtfully. Every single item in the kit is in tone with the global message that they want to express with this collection: knitting is a way to find mindfulness and inner peace. The teal and white colors are all over the kit: on the case, pouches, accessories and even on the cords. The logo is a mandala, an inspirational symbol and buddhist representation of the universe. It is present on the case, pouches, end caps and needle tips. An inspirational word is also printed on each tip: explore, breathe, imagine… It's the same word on both needles of the same size, making it easy to quickly spot the pair. The printing on the needle is very bold and hasn't faded away so far, as opposed to most printing on the needles that I've used. I don't know if they'll stay visible forever or if they'll disappear with a lot of use. I wouldn't care much, but for now, I think those words are an original and pleasing touch.
Teal isn't my favorite color, but it's the only element of the design that I don't love. My favorite characteristic of the design is that it is minimal: minimal in the number of needle tips, in the packaging, in the space it takes. I appreciate the simple yet durable confection of the case, it is made of sturdy canvas fabric, fastened with a sturdy zipper dragged by a cute mandala. The inside is lined with what seems to be undyed brut cotton. There are 7 slots for the 7 pairs of needle tips, identified with the needle size. A pouch, made of the same teal canvas, fits inside the case. It contains all the included accessories and cords. A tiny tiny pouch is inside this pouch, to hold the very small items.
Knitter's Pride has strong sustainability values and some great climate change initiatives. I feel like the minimal packaging of the sets from the Mindful Collection was thought with this in mind. The only extra packaging that was in my kit is a bigger pouch made of thin undyed cotton. It's a reusable drawstring bag that I'll make sure to reuse. I appreciate that it's reusable, and it adds a finished touch to the kit, but I would have preferred if there was even less packaging.
Interchangeable Needles Tips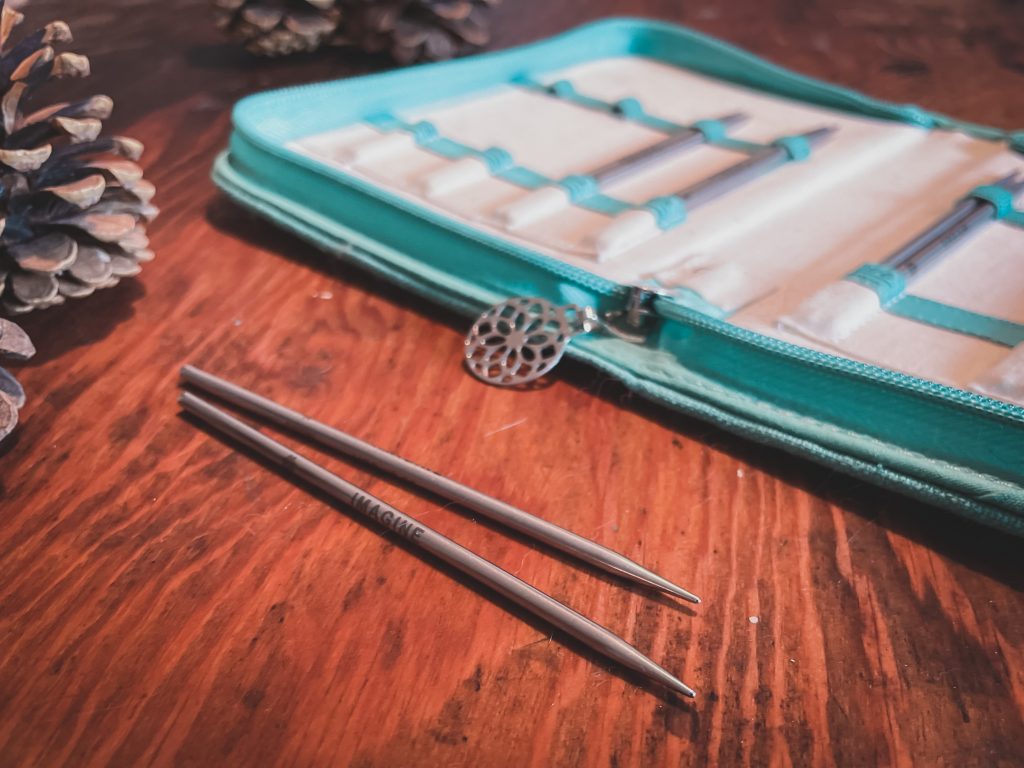 The tips included in the Believe Interchangeable Needles Set really are the highlight of the kit. They are made of steel, allowing the stitches to slide smoothly on the needles. Knitters of all levels can appreciate this characteristic, and especially knitters with some experience and a fast knitting pace. These needles will help you knit quickly! Out of the box, I thought that they weren't so smooth. They had a somehow matt, grippy feeling. 3 weeks of knitting later, they lost most of that feeling: they became smoother and shinier. I wouldn't say that they are the smoothest needles I worked with yet, but they are getting very smooth now.
The tips are 5″ (13 cm) long, which is the longest regular size for interchangeable tips, across all brands. I find that the long tips give some extra ease for knitting rows with a lot of stitches. They are comfortable to hold and my medium-sized hands sit at the right place on the needle.
They are sharp. I mean, really sharp. Compared to my other needles from several different brands, they are probably the sharpest. I indeed appreciate sharp tips, especially while knitting lace, as they really help working complicated decreases and picking up tightly made stitches.
I appreciate the fact that there are only 7 sizes included in the Believe Set – this is the reason why I picked this small kit instead of the more complete Gratitude Set. I try to own only what I really use, and I have no use for knitting needles above size US 8 (5 mm). There are a lot of knitters like me out there, using only small needles, and it's great that Knitter's Pride is offering an option that won't drag us into buying a full set.
About the sizes included, I am amazed by the two smallest size: US 2.5 and 3 (3 and 3.25 mm). It is quite unusual to see such small sizes in an interchangeable needle kit and it is of great value to me.
Frankly, I love these needle tips. In my opinion, they are the perfect go-to needle tips for lace knitters.
Interchangeable Needles Cords
The kit includes 4 cords: 2 fixed (regular) cords and 2 swivelling cords, in sizes 24″ (60 cm) and 32″ (80 cm) long. All the cords are made of very flexible plastic that won't hold memory. I wouldn't say that they are the most pliable cords I have used, but they are very pliable, enough to cause no frustrations to me. The swivelling cords are a game-changer: they make the pliability question completely obsolete. The needles spin on the cords, allowing for a very smooth knitting experience. I will buy more of these cords (
they are available on Lovecrafts.com
).
The cords of the Mindful Collection have a little added feature: they have marks at every inch. This makes it easy to measure your gauge. I'm afraid that the marks will fade away with time (I accidentally scratched one and some paint is gone), but they won't completely disappear anytime soon so I'll be able to enjoy this feature for a while.
My only real disappointment about the Believe Set is its lack of long cords. As a kit labelled for lace knitters, I would have expected it to include the longest cords, to facilitate working on shawls and large garments that a lot of lace knitters enjoy. I'd be sure to drop stitches if I were to knit a large triangular shawl on a 32″ cord! I think that most features of this set really have the lace knitter at heart, but the cords are not accommodating for my usual projects. If it was including long cords, I would consider this kit to be so complete that a lace knitter wouldn't need to buy anything else. However, they are easy to find and not so pricey, so buying separately the exact cord that you need shouldn't be an issue.
Interchangeable Needles System and Compatibility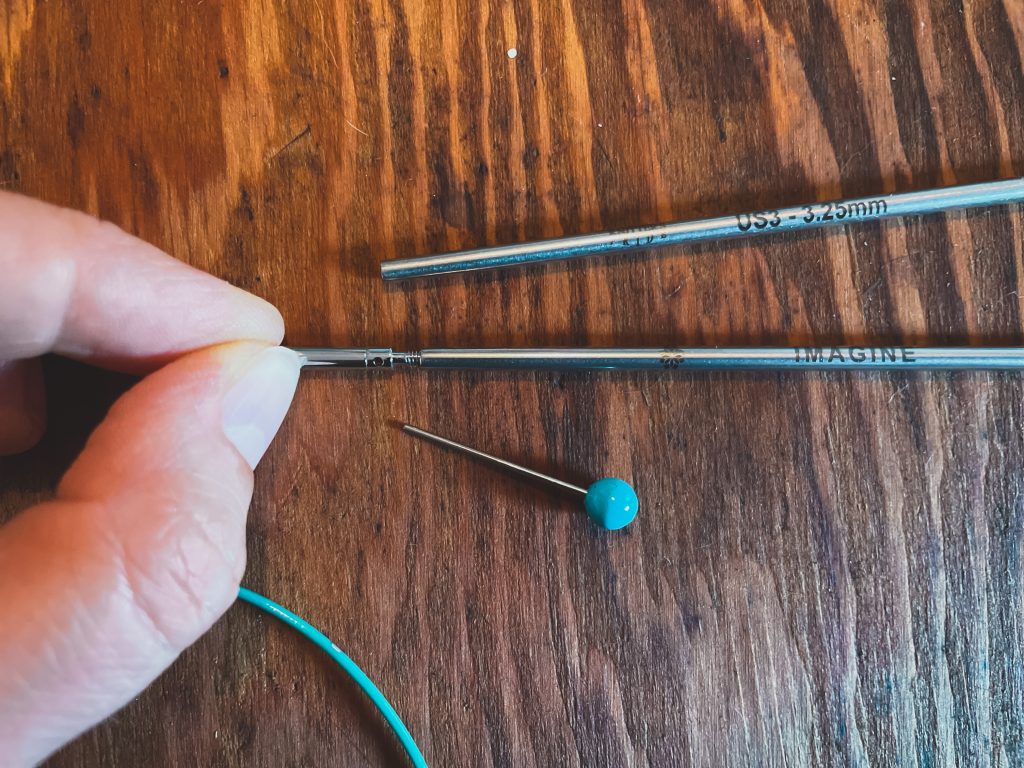 As for any interchangeable needle set, the system is quite simple: you pick your needle tips and your cord, and you secure the tips on each end of the cord. Knitter's Pride needles are secured using a screw system. Set the tip on the cord, turn and turn more, and you're done. Wait! Not quite. You should use the included pin to turn a little more and make sure it's really tightly screwed. This step is important: if you don't do it, your tips might come unscrewed (been there, done that). A lot of brands use this technology, and I think it's good, but it's not perfect. I have a hard time finding the right balance between really tight and too tight. Unscrewing the tips can be difficult if it's too tight, but using the pin helps.
Once the tips are correctly secured on the cord, the system is flawless. There's no gap or bumpy part between the cord and the tip. Not once, my yarn got stuck in the junction! It's seamless.
An interesting aspect of not only the Mindful Collection but of all the Knitter's Pride interchangeable sets, is that they are all compatible with each other! You can decide to try their cubic needles and just buy one pair of tips, it will fit on your Mindful cords. Or if like me you need a long cord ASAP and only find KnitPro cords at your LYS, it will fit, too (KnitPro and Knitter's Pride are sister brands). And a lot of brands use this technology… This exact technology and size! This means that you can mix and match tips and cords from other brands as well (but make sure to do some research before buying!)
Accessories

The Believe Set comes with two pairs of (super cute) cord ends. Cord ends are my absolutely favorite extra accessories in interchangeable needle sets, and they are often sold separately. They make the best stitch holders, and they allow the knitter to put a WIP on hold while freeing the tips. The connectors are a must too, and this set comes with two. I find the other accessories (needle gauge, stitch markers and tapestry needles) to be superfluous. Most knitters already own these in several copies and I don't see them as an added value, except for beginning knitters who are just starting to gather their equipment. I don't think it was really needed in the kit, but I do appreciate that locking and open stitch markers are included. The ones that I already own have mastered a bad disappearing trick and I would have run out of them in the near future!
Price, value and final thoughts
You'll find the
Believe Interchangeable Needle Set
at a price tag around $110 USD ($140 CAD). The same 5″ tips are also part of a bigger, more complete version of the set. The full kit is called
Gratitude
: it includes the same 7 pairs of tips and 7 bigger ones, 6 cords and more accessories. This kit is listed at $190 USD ($243 CAD). These price tags place the Mindful Collection in the middle-high end of the interchangeable needle sets. Is it a correct price tag for the value? If I think about how great, sharp and slick the tips are, how sturdy is the case and how lovely is the design, I would say it is worth its price. The two smaller sized tips also made a great impression to me, as well as the swivelling cords. It's not a cheap kit that you'll buy to see if you like interchangeable needles, and then buy another one! It's the one that you'll buy to knit with for years to come.
(And you can hear me say all this… but please excuse my accent!)