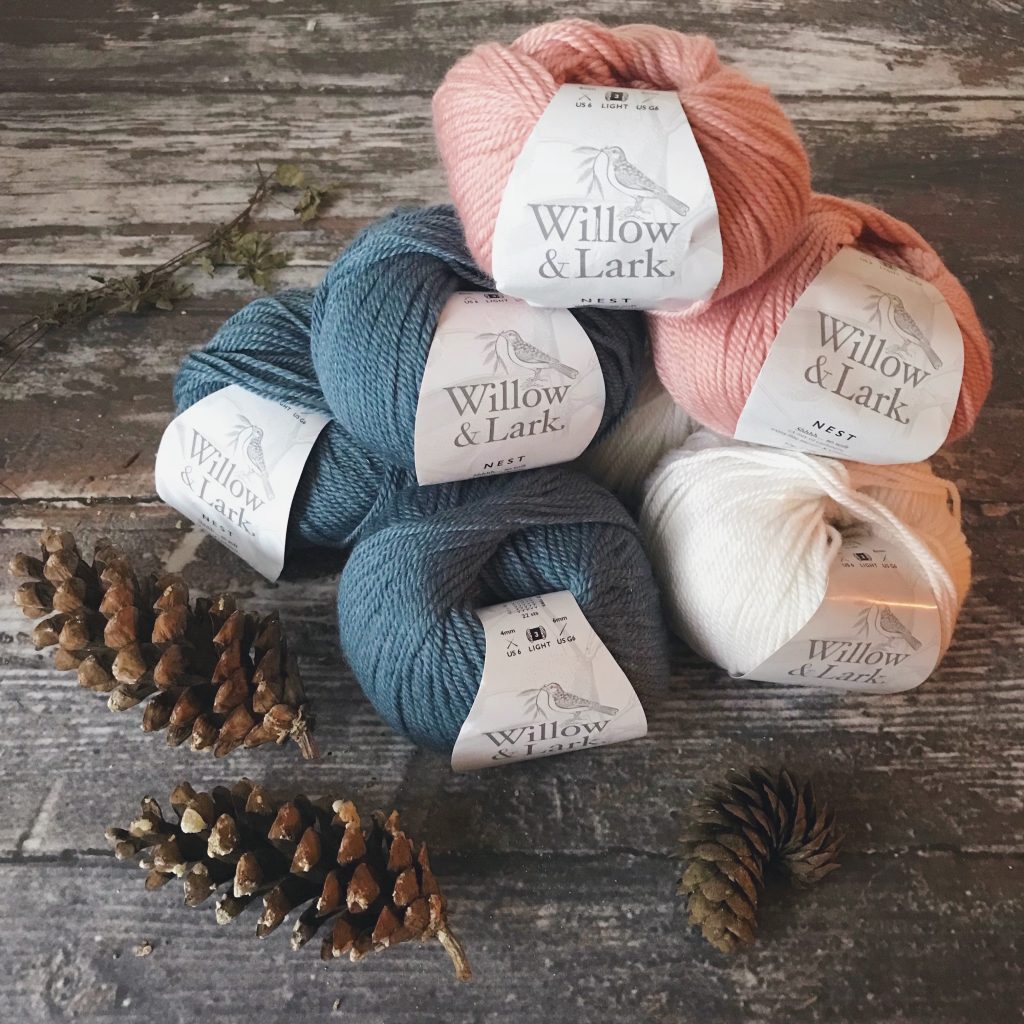 Yarn Review: Willow & Lark Nest
My baby — or should I say toddler — is now 19 months old! Wow, time flies so fast when you're not sleeping! More than two years ago, I became pregnant and my whole life started spinning around this little human being. Surprisingly, I did not jumped right away into knitting baby stuff, and instead, I stuck with my comfort zone by knitting shawls, accessories and adult garments. For some reasons, I'm just starting to want to knit all the tiny things, and it's quickly becoming a new passion. The first step with baby knitting — picking up yarn — needs to be done with care and love. For Little É's new cardigan, I chose Willow & Lark Nest, and I want to tell you more about this incredibly soft yarn.
Willow & Lark is a new British yarn brand. To quote their website, their products are made with "subtle, quirky touches, rigorous attention to detail and exceptional quality", and are celebrating the colours of Britain's natural landscapes. All the colorways I see on their website are solid colors, offered in several subtle, soft or strong shades, making their yarns a very good choice for colorwork.
Willow & Lark Nest is a DK weight, 3-ply blend of 69% wool, 11% cashmere and 20% tencel. It's as soft as a cloud! The cashmere really does its job here, and adds so much softness to this yarn, it is decadent! My sensitive skin would never have guessed there was so much wool in this blend. On the other hand, my eyes can see there's some beautiful, high quality wool in this yarn. It is springy and seems to be quite sturdy. Tencel adds a lovely shine and teams with the wool to add sturdiness.
About care, well, obviously, you can't machine wash and dry a cashmere blend, so I admit it's not ideal for everyday baby knits, but for special, not messy occasions, it is worth adding to your hand wash load.
For this cardigan, I chose three sweet colors: Lake Blue – Melange, Rose and Snow Drop. I plan on doing a simple raglan cardigan with the blue as the main color, and a large band of Fair Isle in the middle, with the pink and white yarns. I made a swatch and I'm almost ready to start! I can't wait!!! My hands will thank me for knitting so much softness!
The yarn is sold as 50 g / 125 yards center pull balls, at the regular price of $7.79 USD on LoveKnitting.com (but check out for sales, right now it is 35% off). It's not the cheapest, but if you want your littles to be wrapped up in cashmere, I think it's a very honest price. And I'm already thinking of getting more for me… I also want my own extra soft cardigan! And then maybe a shawl? And then maybe we'll need hats? It looks like I'm not done knitting with this yarn!
EnregistrerEnregistrerEnregistrerEnregistrer
EnregistrerEnregistrer
EnregistrerEnregistrer
EnregistrerEnregistrer