Small steps
In my life, I've learned two great principles by which I live:
1- You can't get anything without working hard.
2- Positive thoughts are the best friend of any project.
Following these principles, I've fixed my objective: I want to publish one pattern per month until I become a millionnaire.
I assume the "work" part. About the "millions"… well, we'll see! A more realistic idea would be to make a living with pattern design. My actual carreer allows me to split my time between two activites so why not!
I'm taking one step at a time. One knit, one pattern, one test, one publication. It's a long process but I appreciate each step. I like to find the formula to get the right sizing and look. I love to knit during many many hours… I like to talk about my patterns (amongst other things!) with the lovely women who are testing for me. I like the thrill of having a new pattern on sale. And every single time I get an email saying that someone bought my pattern, it's a pat on the back, a compliment, a reason to keep working.
My hat pattern is for sale since the end of January.  It's available in French and English.
Today, I published my cowl pattern.  The reaction is very positive!  I'm particularly proud of this one!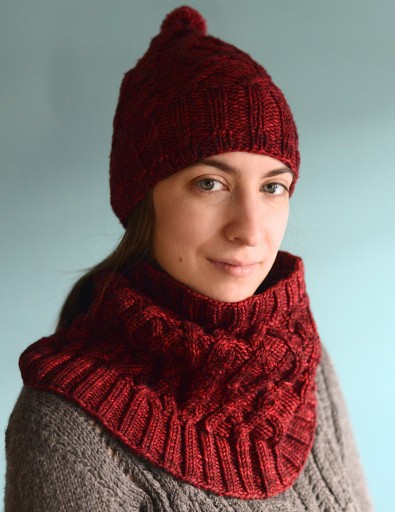 It's available in French, English and German. One of my testers took the initiative to translate it. I'm so grateful! This is such a thrill… even if I don't understand a word!
And to complete the kit, the mittens are being tested at the moment. More to come.
And from now on I'll be knitting with some other yarn. I'm seeing red!
(But I sure will come back to Madelinetosh pretty soon, her yarns are so lovely!)